December 15th, 2006, by Fr. Shawn P. Tunink
It's hard to believe that it was two weeks ago today that I left snowy Chicago for the little town of Bethlehem. I'm starting to kind of feel at home here now. We had a Jesuit come speak to us today about how a Christian could read the Qur'an. Our learning about Islam is a nice compliment to our study of Luke and spirituality. This is really a comprehensive pilgrimage. The weather so far has been beautiful, but they say that the "rainny season" is overdue. This is a desert here, so the locals are very much looking forward to rain, but I'd just asume that if it's going to rain that it do it at night.
I see by the number of people that are coming to my site now that there are quite a lot of people following my pilgrimage. I'm so happy that people are enjoying my pictures and stories. You really have to be here to experience it, but I'm glad that maybe I can share a little bit with people back home. Let me know if there's anything you're interested in that you want me to write about or get a picture of.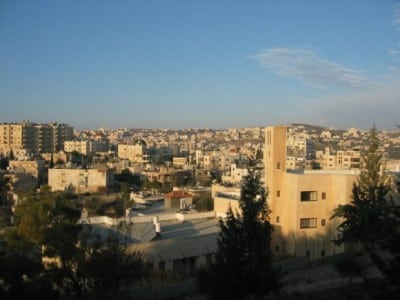 View of Bethlehem from my Bedroom Window