December 2nd, 2006, by Fr. Shawn P. Tunink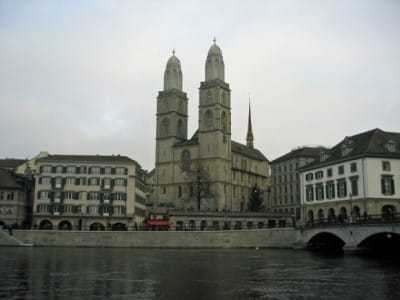 Today we arived in Zurich, Switzerland where we had a 12 hour layover waiting for our flight to Tel Aviv to leave at 10:00 that night. Although I didn't sleep much on the plane I wanted to start to fight the jet lag battle, so instead of sleeping in the hotel they had for us, I decided to venture out to downtown Zurich. I figured out where the train was and even figured out the schedule being helped by my experience in Colgne for World Youth Day in 2005.
As I got to the Old Town area I was again reminded of World Youth Day as Zurich has a feel very much like Bonn in Germany. There are some very nice old buildings and a number of impressive looking churches. I must say that the churches are impressive on the outside with big tall steeples, but on the inside they leave much to be desired. Zurich was the center of operations for Zwingly in the reformation and thus most of the churches are not Catholic. I was rather sad to go into a big amazing church and find an empty sanctuary or, what seemed worse, a big pulpit for a sanctuary.
Despite being somewhat disappointed with the inside of churches, I really enjoyed the afternoon I spent walking around. There were many people out and about an I even saw some Santa Claus's giving out candy. Check out all the pictures to see more. I'm still working in adding captions to tell you what everything is, but just enjoy the pictures for now. It was rather cloudy, but still nice.