December 22nd, 2006, by Fr. Shawn P. Tunink
Today we had a rather unique opportunity to attend a special ecumenical gathering at Bethlehem University. The heads of the various religious denominations in England were in Bethlehem on pilgrimage and were having an ecumenical prayer service together. The distinguished pilgrims included:
Cardinal Cormac Murphy-O'Connor, Archbishop of Westminster
Rowan Williams, Anglican Archbishop of Canterbury
Bishop Nathan Hovhannisian, Primate of the Armenian Church in Great Britain
David Coffey, Moderator of the Free Churches
They were hosted by Archbishop Fuad Twal, the Coadjutor Archbishop of Jerusalem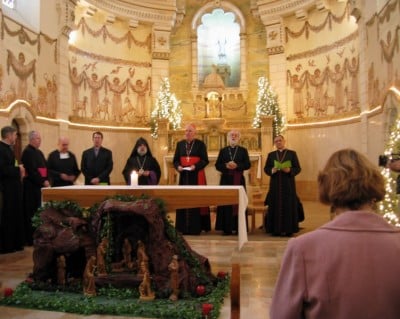 Distinguished Ecumenical Pilgrims from England
It was a nice prayer services as far as those things go. There's only so much you can do when you can't celebrate Mass. The highlight, I would say, really came after the prayer service. The university Olive Branch Choir gave a wonderful Christmas concert that really helped put me in the Christmas mood. I still felt a little chill when they were singing "Hurry to Bethlehem" and "O come ye to Bethlehem" and I had to think…O ya…I'm actually here this time!
Later tonight I went to an orchestra concert at St. Catherine's. This was entitled a concert for Life and Peace that was televised all over the world and is apparently a pretty big deal. It was a very nice concert and the church was packed. It wasn't Christmas music, but if was very nice. Manger square is starting to look like Christmas with lights everywhere. There still don't seem to be many tourists thought. One bit of good news (for the locals anyway) was that it finally started raining today. That will be a nice Christmas present for a desert.