September 19th, 2008, by Fr. Shawn P. Tunink
It's been a while since I've updated the blog and many people have been asking what I'm up to. Well, being a priest has been keeping me busy…but I love it. Yesterday was my "day off" and I was kind of sad because I had to force myself to stay away from the high school so as to "take a break." I was back at it today, however, and we've got a football game with a big cross city rival tonight. That leaves me a few minutes to provide some unique and interesting insights into my present state of affairs.
For this update, I thought would focus on an exciting new leisure time activity I'm working on. I have always loved planes and flying. I recently attended an air show in Kansas City with my dad and saw the U.S. Air Force Thunderbirds. Whenever I get a new computer, the motivating factor is normally because I need better speed for my flight simulator. I have been doing flying lessons on my computer for years now and especially enjoy all the instrument navigation.
Despite all the simulator fun, I always told myself that when I finally got settled down somewhere I would look into actually learning how to fly. Well, I decided that time was now and so I went to the local airport here in Topeka to see about getting my private pilot's license. It turned out it was going to be at least $7,000 and probably more like $10,000. That just doesn't work for a priest, so I decided to go back to my computer.
Well, the next weekend I ran into some parishioners who are partners in an airplane. One of them is even a flight instructor and we worked it out so that I could take my first ride in a small plane. Here is a picture of the plane:
Whoops! That's actually the F-14 Tomcat that I visited at the Combat Air Museum here in Topeka. I got to touch it but not actually fly it. Sorry. Here's the plane that I actually flew in: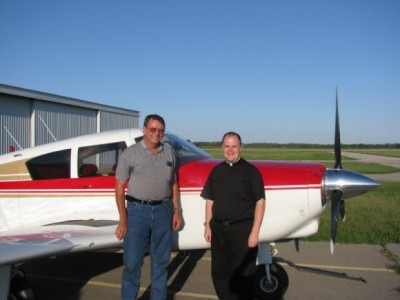 That's me and my flight instructor, Jay, along with the Piper Comanche that I piloted. When I say I piloted, I do in fact mean that I was the pilot. When we got ready to get in the plane I thought I would be lucky just to sit in the front seat. Instead, Jay told me that I was going to be in the left seat as the pilot. I got to take off, fly around, and even land. Yes, that's right, I landed the plane on my first time flying. There were dual controls, so Jay assured me he wouldn't let me crash. Luckily it didn't come to that and I did my first bit of piloting all by myself. Here are some action shots: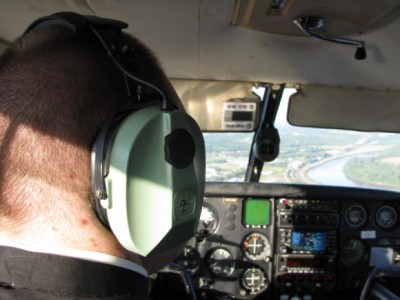 That's the Kansas River down there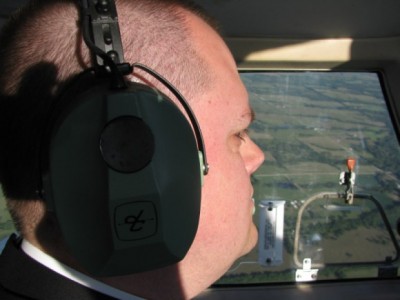 Don't I look focused?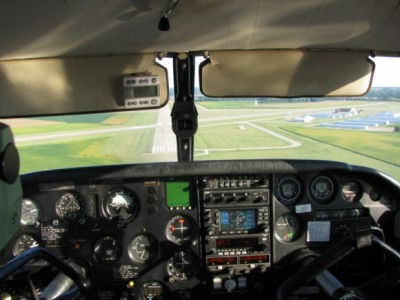 Here I am aligned for my perfect (well, almost) first landing
This was a wonderful experience and got me excited about flying. Still, the expense is remains a bit of a problem. However, it turns out that Jay is not only a Certified Flight Instructor, but is an advisor for a local Explorer Post of Air Scouts. Being that I'm the chaplain for all the scouts in the Archdiocese, I've decided I need to get to know these Air Scouts. I'm going to their ground school each Saturday morning which is great and, eventually, I may get to fly and work on my license. We'll see. I'm kind of waiting to see where God leads in all this. If He opens a path that will be within a priest's budget, then this may work. I'll keep you posted. Thanks to Daric for being my passenger and back seat photographer on my inaugural voyage. I hope there are many more.