April 9th, 2010, by Fr. Shawn P. Tunink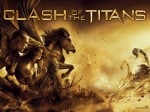 I went with some priest friends recently to see the new Clash of the Titansmovie. I remember studying all this mythology in High School and did a bit of comparative religion study in seminary. However, seeing Zeus and Hades battle things out on the big screen was something new. As I enjoyed my "fork and screen" experience of all the technological wonder that Hollywood can provide, I had a profound realization….these Greek myths are stupid!
Perhaps this was just another pathetic example of the current lack of talent in anything besides special effects coming out of Hollywood. However, to be fair, this story was written before Hollywood. There's something just silly about the whole story in the first place. One couldn't help but see how ridiculous it would be to live in a world in which God(s) was somehow in competition with us. The men in the movie rebel against the gods by refusing to "nourish" them with their "prayers". "The gods need us!" one rebel triumphantly shouts as he refuses to "pray." It's no wonder people think religion is for imbeciles
Does it really make any sense to think that the one true God who made the entire universe out of nothing would then be subservient and dependant on his own creation? God isn't just the most powerful thing out there. He's not the most powerful titan or head of some group of powers. He's outside of and above all of this. Despite our attempts to treat God as though we could control him or even just avoid him, we know that this is ultimately impossible, and thank God for that.
In a strange sort of way, the film actually helped reinforce my faith. The Bible simply must be true, because if we tried to make up our own religious story we'd get something like Clash of the Titans.