December 4th, 2011, by Fr. Shawn P. Tunink
Under Construction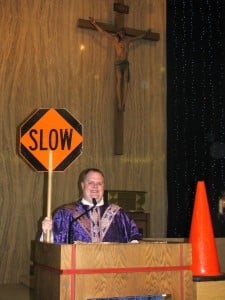 Advent is a time filled with many treasured symbols: the Advent wreath, the Christmas tree, favorite foods and songs. In today's homily I introduce my favorite Advent symbol: the orange construction cone. At first it may seem like an unlikely symbol for such a peaceful season, but if you look at the readings today, they're all about road construction. Isaiah says plainly that our job this Advent is to build a highway for God.
How's your road to God looking these days? Have you patched so many potholes that it looks more like a mine field? This Advent God invites us to put a big "under construction" sign out. We've got to do the hard work of repairing our road/lives through some spiritual resurfacing. No one likes construction while it's going on, but there's nothing nicer than a brand new road. The Sacrament of Penance is our chance to resurface our road and start over.
Finally, the season of Advent is one that can easily get out of control if we're not careful. If we follow the wisdom of society we will wind up being very busy and arrive at Christmas exhausted and glad it's over. To avoid this we need to slow down. Picture that construction worker on the side of the road with his big orange "SLOW" sign. Consider it a sign from God this Advent. Slow down, take time for prayer and quiet, and think of the beautiful new road God has planned just as soon as you get through this construction zone.
Podcast: Play in new window - Download (Duration: 10:33 — 9.8MB)
Subscribe: Apple Podcasts - Android - RSS