June 10th, 2012, by Fr. Shawn P. Tunink
Today was our first full day in the Holy Land and it has indeed been "full." We began by traveling to the hill country of Judah, just as Mary did to visit her cousin Elizabeth. How appropriate that we as pilgrims begin at the same spot to which Mary went as a pilgrim 2000 years ago. Mary brought Jesus to the home of Zechariah and Elizabeth and John the Baptist leaped for joy. I pray that Mary will also help us encounter Jesus over the next days.
After visiting the Church of the Visitation which contains the well where Mary and Elizabeth met, we went across the street to the Birthplace of John the Baptist. I got the opportunity to lead a reflection on the life of this great saint. I focused particularly on the prayer of Zechariah and how we was able to place the birth of John in the perfect context of salvation history. I pray that the Holy Land will help us all to experience the great physical context in which the stories of the Bible take place. It is so important that we know our story.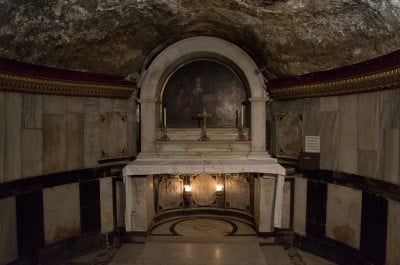 Birthplace of John the Baptist 
We then moved on to one of the highlights of any pilgrimage to the Holy Land; we visited the Church of the Nativity and reverenced the birthplace of Jesus. I was wonderful to be able to celebrate Mass in St. Catherine's Church on the site and then to visit the cave where Jesus was born. For Mass we celebrated the Mass of Christmas as every day is Christmas here in Bethlehem. I was particularly moved by the places in the Missal where the texts had been slightly changed, often adding the word "HERE" in many places to emphasize that the events spoken of at that first Christmas are all true and they took place right "HERE."
After all the busyness of Manger Square and the rest of the city of Bethlehem, we headed slightly outside of town to one of my favorite places in Bethlehem, the Shepherd's Fields. These are the same fields where the shepherds first received the news of our Savior's birth. Unlike when I was here previously in the winter, today there were many sheep out in the fields. It was very peaceful and wonderful to imagine the multitude of angels that would have filled the sky one special night 2000 years ago.
As the star marking the place of the Savior's birth reminds us, "Here of the Virgin Mary Jesus Christ Was Born." What a blessing to be present "here" for this special time. Tomorrow we're off to Galilee.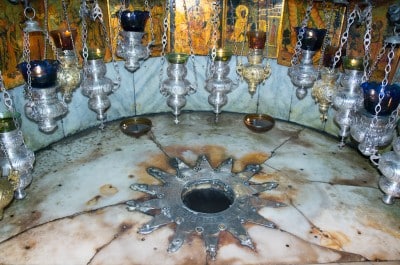 Star Marking Birthplace of Jesus