June 18th, 2012, by Fr. Shawn P. Tunink
Well…the end of the pilgrimage anyway. I write this morning sitting in Ben Gurion airport, listing to Abba's greatest hits…go figure. Our group has split multiple ways now with some of the group currently in the air for home having left at midnight. 24 of us are here this morning having stayed in Tel Aviv last night and having woken up at 4am. For us, it's Paris, Atlanta, and then home late tonight. A good chunk of the group is going onto Rome for two more weeks. Some are continuing onto France after that. My good friend Terry Sexton is really going whole hog and is doing Rome, France, and then going on to hike a couple weeks of the Camino Santiago after that just to make sure he fully qualifies for the title "pilgrim."
I thank you all for following the blog on this amazing experience. Hopefully, you can see what a spiritual blessing a pilgrimage to the Holy Land is. Also notice that safety was the furthest thing from our mind here. I pray that perhaps through reading this blog you too will consider a pilgrimage to the land known as "The 5th Gospel." I guarantee your life will never be the same. From the Holy Land for the last time, this is your friendly neighborhood blogger signing off.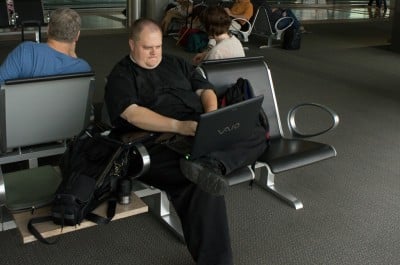 Fr. Shawn the Electronic Angel
Note: The blog will remain up "forever" and I encourage you to share it with others. Continue to follow me for weekly homilies and other musings. Note the link at the top entitled "Holy Land Pilgrimage" which details every day of my journey here in the Holy Land for almost 3 months in 2006-2007. God willing there will be many more entries on the Holy Land in the future.