May 6th, 2013, by Fr. Shawn P. Tunink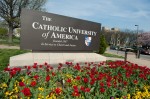 This past week I received the official bound version of my S.T.L. thesis in the mail. It feels quite nice to hold it in my hand and know that it is finished. I can't make it back to Chicago for graduation, so I will celebrate with my high school seniors who graduate from Miege on the same day. People have asked what to call me now. I've been telling people to call me "done." However, it appears that being done isn't going to last very long.
While apparently there is no step increase in salary for a priest receiving an S.T.L., I did get a call from the Archbishop. He must have been impressed with my finished thesis because he has decided that he wants me to write another one!
I officially announced at the parish this weekend that the Archbishop has asked me to go back to school to get a degree in Canon Law. This fall I will begin three years of studies at Catholic University of America in Washington, D.C. to become a Canon Lawyer. The last weekend in June will be my last in my current assignment.
I'm not one that is good at moving around a lot, so please pray for me. Right now I am still trying to find a place to live in D.C. I love history and always love being in D.C. for the March for Life. Now I'll have plenty of time for all those museums…unless I have homework…or it's a school night.