January 30th, 2014, by Fr. Shawn P. Tunink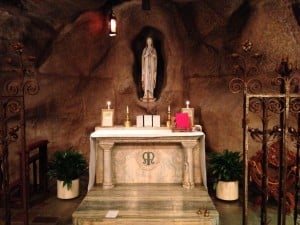 Lourdes Chapel at the National Shrine
People who know me know how much I love the liturgy. I obviously love celebrating it, but also studying and coming to understand it better. Yet, more and more there has been one issue that has kept coming back up as something to put on my "to do" list: The Extraordinary Form…the "Old (Latin) Mass" from 1962.
Well, I have a sort of confession to make. Over Christmas break I finally decided I needed to learn what this Mass was all about, so I went and got some training. I can now report that today, on the feast of St. Martina in the traditional calendar, I celebrated the Mass in the Extraordinary Form for the first time in the Lourdes Chapel at the Basilica of the National Shrine of the Immaculate Conception here in Washington.
Now, before anyone begins to label me some kind of "radical traditionalist," you should know that I have really not been a fan of the 1962 Mass. I'm too young to have ever attended it growing up. Moreover, I have always felt that our primary goal has got to be to make the regular Sunday celebration of the Mass a much more sacred and transcendent experience. I was not a fan of the indult that existed under John Paul II. I at least wasn't a fan of young people going to this. In my mind, the indult existed for those who couldn't change, but it would eventually go away.
Pope Benedict caused me to have to do some rethinking of all this. As you may be aware, in 2007 Pope Benedict did away with the indult or "special permission" that a priest would have previously needed to celebrate according to the 1962 missal. Moreover, he seemed to be saying that all priests should know how to celebrate this Mass if their people asked for it. His desire, like mine, was to restore sacredness to the liturgy, but he wanted to do it through what he called a "mutual enrichment" between the 1962 Mass and the contemporary Mass. I could see that this wasn't just a plan to allow certain people to remain wrapped in the nostalgia of the past, but a real way forward. This was not a return to the past but, in a way, a chance to perhaps go more slowly and get right some of the things that went wrong with liturgical reform after the Second Vatican Council.
I have to admit that, although I could see what Pope Benedict wanted to happen, I wasn't completely on board. I still worried that the Extraordinary Form of the Roman Rite as he now called it would create division and isolated groups. I thought that Latin would be a barrier to full, conscious, and active participation in the Liturgy. Would it ever be normal to have an Extraordinary Form Mass on the normal schedule at most parishes, an option no different than going to a guitar Mass? That was clearly the plan, but I wondered.
It's been six years now and the Extraordinary Form is gaining in popularity amongst some pretty amazing Catholics that I have met. I finally decided that I needed to get on board with this. If nothing else, my research into the pre-Vatican II rites of Holy Week showed me how much I really didn't understand what Mass was like before the Council. I knew some things, but the only way to really understand what that Mass was all about was to do it.
So I did it. And you know what…I'm glad I did. For having loved the liturgy for so long, I'm amazed at how I was able to study so much of "liturgical history" and yet never really get into the nuts and bolts of how the Mass was celebrated. There is a reason why the Holy Spirit inspired Pope Benedict to preserve this Mass, not just in a book but as an ongoing lived experience. Pope Francis too has said that he intends this to continue. This is clearly of the mind of the Church and this is always where I want to be.
With all that said, I think it important to end with this point. Someone asked me today after having celebrated if I had found the Extraordinary Form to be the incredibly amazing and powerful experience that clearly he expected I should have. I said to him simply that "it was Mass." It was a different book with different words and gestures, but it was Holy Mass, and I had the same joy that I have every day to wake up as a priest and know that I get to make Jesus present and that he gives himself to me.
I don't know exactly what I'll do with this now. I consider it to be one more tool in the pastoral tool bag. Over the course of these years since the changes of Pope Benedict I've had people, young people even, come to me and ask if I could please celebrate the Extraordinary Form for them since they know that I love the liturgy. To this point, I've always had to say no. Now I have something else to offer my people for their spiritual edification. I might even find that praying these beautiful prayers, the exact ones, which sustained the greatest saints in the Church for 1500 years…well, it might just lead to my spiritual edification too. Prosit pro omnibus et singulis.