December 25th, 2014, by Fr. Shawn P. Tunink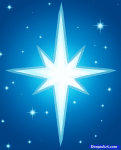 One of the most cherished traditions of the Church year is celebrating Mass during the dark night of Christmas as we welcome the birth of the Light of the World. It is fitting the our Lord chose to be born at the darkest time of the year just as the light starts to grow brighter. There is much darkness in our world and in our lives. There is much from which we need to be saved. This is why the news of the angles is such good news, "A savior has been born!"
Yes, we have a savior that has come to shine light into our darkness. Yet, it is important to notice that the light that shines does not complete eliminate all darkness, nor does it show us everything of what our future holds. Rather than presenting himself as a bright irresistible light, Jesus comes under the light of a star, a sign so subtle that it was missed by even those most looking for it. Jesus will come at the end of time as the definitive king demanding obedience and placing all things under his rule. Yet, at that first Christmas he chose to come as a little baby, the most non-threatening way we can imagine.
Each day Jesus wants to come into our world. Are we afraid to let him in? Maybe we fear what he will ask or fear that we can't live up to his expectations. Maybe we just selfishly want to be left alone to be lord of our own lives, even doubting that God really has our best interest at heart. Again the angel give us counsel, "Do not be afraid, for behold I bring tidings of great joy." Jesus is asking us to accept him, to let him in. Do not be afraid to say yes to him! He is not going to present you with an irresistible offer, so don't wait for one. Rather, right now he is shining his light on just the next step, light enough to lead. You needn't worry about where the entire staircase leads, just following the light shining on the next step.
Saying yes to one little step at a time will lead you to the ultimate meaning of your life, to become a great saint. I've seen how this can work in my own family and God surely wants the same for you. Don't be afraid to follow the subtle light of the star shining into your life. Like the three wise men, say yes and get ready for an amazing journey.
Podcast: Play in new window - Download (Duration: 17:48 — 16.5MB)
Subscribe: Apple Podcasts - Android - RSS