March 19th, 2017, by Fr. Shawn P. Tunink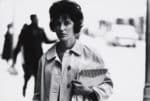 This week, I visited the Nelson-Atkins Museum of Art in Kansas City to view a special exhibit of photography. The pictures displayed were all of people, but not your typical "smile for the camera" moments. These were candid shots mostly showing people looking rather empty and sad. There was no joy on the faces of these people, just frustration and a certain tiredness. The photographer, David Heath, took these pictures in the 1960's in Washington Square, New York. As I looked at these pictures, I thought of the Samaritan woman in today's gospel who came to draw water from the well. If David Heath had been there to take a picture, I bet she would have looked a lot like the people in the photos of the exhibit. She was tired of coming every day to the well. She was constantly thirsty, and not just for water.
But then something unexpected happens. Into this cycle of sadness comes Jesus. He offers to give the woman "living water" that will satisfy her thirst. This encounter with God changes everything for the woman. She forgets all about her previous troubles, leaving behind her water jar, and goes to share her new-found joy with others. I experienced something similar at the end of the exhibit at the Nelson. When one goes to an art museum, one expects to find "visual" art, like the photographs I saw. Yet, at the end of the David Heath exhibit, with all it's sadness, I encountered something completely unexpected for an art museum.
As I neared the end of the photography exhibit, I began to hear music, beautiful music. In fact it was an "audio exhibit" unlike anything you would expect to find in an art museum. The creator recorded a forty-voice choir singing a beautiful piece of sacred music composed in the 1500's. Each voice was projected from one of 40 speakers arranged in an oval. Visitors could stand in the middle and take it all in or walk around and hear the individual voices. The piece being performed was written by the famous composer Thomas Tallis, and was entitled Spem in alium. How amazing to follow a rather melancholy photo exhibit with a piece of music urging people to have hope (spem) in God.
Exiting the exhibit, people could leave comments about their experience. So many people wrote about how they experienced God in this music. I was surprised at the profound depth of experience people were expressing. Clearly these people were thirsty for this beauty, and ultimately thirsty for a message of hope. Like the woman at the well, we too are called to go out and find the thirsty people around us and bring them to the water. Many of us can relate to the experience of lead singer Bono of the band U2 who has tried to find happiness in many places and yet admits, "I still haven't found what I'm looking for." What do all these people have in common: the woman at the well, the people in the photos, the visitors to the audio exhibit at the museum… you and I? We're all thirsty. We're all looking to satisfy our thirst. Only Jesus can fully quench this thirst. When you encounter him, and accept his gift of living water, only then will you know that you've found what you're looking for.
Multitude, Solitude: The Photographs of Dave Heath
Janet Cardiff: Forty-Part Motet
U2 : I Still Haven't Found What I'm Looking For
Podcast: Play in new window - Download (Duration: 16:57 — 15.7MB)
Subscribe: Apple Podcasts - Android - RSS