June 11th, 2017, by Fr. Shawn P. Tunink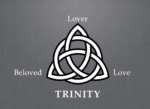 Today's gospel is one of the most well-known in all of Scripture. "God so loved the world that he gave his only son." You often see people making reference to this famous passage by the reference, "John 3:16." If you had to boil the entire Christian message down into one nutshell statement, this would be it.
St. John goes on to give us two key reasons that God sent the son. First, so that we might have eternal life. Just those words, "eternal life," are enough to get the attention of even the most hardened atheist. With all the trouble we experience in the world, there's something built into us that just says, "There has to be more than this!" We desire to live forever and we desire that all the wrongs of this world would one day be made right. We long for heaven and eternal life with God.
Secondly, the son is sent not to condemn the world, but to bring salvation. After we find ourselves attracted to the idea of God and eternal life, we almost always then realize that we are not worthy of this. We feel woefully inadequate to deserve to be so close to God and to live forever. That's where the real good news comes in. We don't have to earn salvation. It's precisely because we can't save ourselves that Jesus comes, not to condemn but to save.
It might seem strange that we read this gospel on Trinity Sunday. What does it have to do with the Trinity? You don't even have the Holy Spirit mentioned in the text. I find the answer to this in that most important word, God so LOVED the world.
An isolated solitary person cannot love. You need somebody to love. That's why God is not an isolated singularity, but a communion of persons. The Father loves the Son and pours himself out. The Son receives this love and returns it to the Father. Then, as the great St. Augustine tells us, the love between the Father and Son is so real, that it becomes another person, the Holy Spirit. The Trinity is a burning fire of love. Now hear that famous verse again, "God so loved the world that he gave his only son." There's God the Father, the Son, and the love, the love that is the Holy Spirit. So it turns out that all three persons of the Trinity are in there after all. And the best news of all… God shares that love with us. Experiencing this love is so amazing that we are called to go share this love with others. Now that's good news.
Podcast: Play in new window - Download (Duration: 12:16 — 11.4MB)
Subscribe: Apple Podcasts - Android - RSS