December 24th, 2017, by Fr. Shawn P. Tunink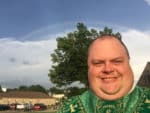 Thank you all for the prayers and cards over the past month following my surgery. I am blessed to be able to report that everything went very well. The doctors believe they removed the entire tumor and the levels of the hormone it was excreting dropped to normal the day after the surgery. The pituitary gland is very small but very complicated, so it will be another couple weeks before we know if levels of other hormones will now also improve. I am hopeful and continue to appreciate your prayers.
That's the good news. The sad news is that I will not be returning to my parishes in Osawatomie, Mound City, and La Cygne. Archbishop Naumann has asked me to assist Divine Mercy parish in Gardner, where their pastor is on a leave of absence, and also St. Michael's parish in Leawood where a priest is leaving. I will be living at St. Michael's but helping with weekend Masses in Gardner, beginning in January.
As Catholics, we all know that priests can be moved at any time and our faith is in Jesus, not our priest. However, being a pastor means much more to me than simply a job; it means being a father. Rather than changing "job sites," this feels like I'm leaving part of my family behind. In many ways, brain surgery has been easier.
Other priests tell me that the first place where you are pastor will always have a special place in your heart. I am sure that will be true for me as well. Over this last year and a half, I have been so blessed by the warmth and support of my parishioners. I have witnessed the great love of family, and even learned a thing or two about cows and soy beans. More importantly, I've been inspired by the incredible love of Jesus and the Catholic spirit that exists in these parishes. We may be small, but God is truly doing great things. I know this will continue long after I'm gone.
The picture above is a favorite of mine. It was taken right after my first Mass in Mound City. I came out of the church to greet people and everyone was looking up at the sky and pointing at a big rainbow that seemed to land right on top of the rectory. I had some fears in the beginning about how a "city boy" would be accepted into "country" life. This rainbow seemed to be a sign from God that I was where I was supposed to be. Now he wants me somewhere else, so I will go, and trust that there will be other rainbows.
St. Rose Philippine Duchesne, pray for us.