January 28th, 2018, by Fr. Shawn P. Tunink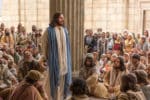 In today's gospel, Jesus gets up to teach in the synagogue and we are told that the people were "astonished" at what they heard. They say that Jesus teaches "with authority," unlike the scribes. What is this authority? At the time of Jesus, it was common for rabbis to teach by first quoting the Scripture and then quoting the opinions of some other respected rabbis. Jesus doesn't do this. This word for authority in the original Greek is exousia, meaning "from one's being." Jesus doesn't repeat mere opinions of others when he teaches. He teaches in his own name and from his very being.
While we are not God and cannot teach with that kind of authority, we are in fact called to teach. When we teach, we must use the prophetic gift given us in baptism. We can't merely recite simple Bible texts or Catechism passages. Rather, we too much share our faith "from our being." It's got to be our living belief, not words from a book.
When we do this, like happened with Jesus, we should expect opposition from the Evil One. Jesus is confronted by an unclean spirit claiming, "I know who you are!" The devil uses the same tactic with us. As soon as we try to go out and spread the good news, Satan and others with try to shut us up by claiming to know who we are, that we are terrible sinners that don't live up to our own teaching. Don't let this stop you. Expect the opposition. Tell the spirit to be "quiet" like Jesus did and then bravely go forward, teaching with your authority as one redeemed and saved by Jesus. A quick prayer to St. Michael might not hurt either.
Podcast: Play in new window - Download (Duration: 15:20 — 21.1MB)
Subscribe: Apple Podcasts - Android - RSS