February 4th, 2018, by Fr. Shawn P. Tunink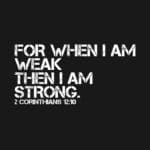 Today's homily was given to the archdiocesan candidates for the diaconate at the conclusion of their weekend of formation.
In the second reading, St. Paul tells us about the need to preach the gospel. Yet, in today's world, "preaching" has almost taken on a negative connotation. "Don't preach at me!" In this sense, the listener seems to understand the one preaching as coming from a position of superiority. This is the opposite of what St. Paul intended by preaching. Rather, he makes the striking statement, "To the weak, I became weak." To be a good evangelist, to be a good Christian, we must recognize that we are not superior, but weak.
Acknowledging weakness is especially important for those who would be leaders of God's people. The deacon in particular should be in touch with the every day cares and worries of the people he serves. His ministry "in the world" makes the deacon especially fit to bring the needs of God's people before the assembly at Mass. This is seen in the leading of the Universal Prayer, or "intercessions," as well as in the handing over of the bread and wine to the priest.
Whether we are called to a special ministry of leadership in the Church or not, we are all called by virtue of our baptism to be evangelists, to be preachers of the Word. Don't worry if you're not perfect or feel weak; these are not disqualifiers for Jesus… these are prerequisites. Unlike a corporation that might fire a leader that isn't strong enough, Jesus chooses the weak to reach out to others who are weak. Just look at the apostles.
So get out there and preach your story; preach from your weakness. Peach about what Jesus has done for you in your weakness. As St. Paul himself reminds us, it is when we are weak that we are strong.
Podcast: Play in new window - Download (Duration: 18:04 — 25.0MB)
Subscribe: Apple Podcasts - Android - RSS