About Fr. Shawn
I am a priest of the Archdiocese of Kansas City in Kansas.
Student in Canon Law at The Catholic University of America in Washington, D.C.
Chaplain – Archdiocesan Catholic Committee on Scouting
Education
S.T.L. – University of St. Mary of the Lake/Mundelein Seminary – Liturgy and Sacramental Theology (2013)
M.Div. – USML/Mundelein (2008)
S.T.B. – USML/Mundelein (2008)
B.S. – University of Kansas – Computer Science (1999)
The name Shawn is the Irish version of the name John. There are obviously many famous saints named John that could serve as my patron and I do admit to claiming all of them in some way. However, I take St. John the Baptist as my primary patron saint and thus my domain name devoted to "Shawn the Baptist."
I very much admire the prophetic spirit and courageous witness of St. John. I pray that he will be a powerful intercessor in my priesthood. John described himself as a "voice of one crying out in the wilderness." Our society today can seem very much like a wilderness and is in need of more voices like John to call the world to repentance and to boldly point out the Lamb of God. I pray that I may be such a voice, pointing the way to Jesus, that He may increase and I may decrease.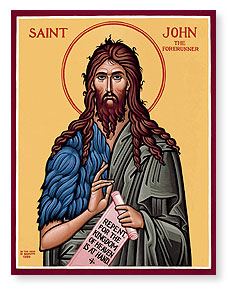 St. John the Baptist, pray for us.
P.S. In case you were questioning, yes, I am Catholic…but I'm also a baptist. In fact, baptizing little babies is one of my favorite things to do.