About Fr. Shawn
I am a priest of the Archdiocese of Kansas City in Kansas.
My current assignments are as follows:
Associate Pastor – Curé of Ars Catholic Church, Leawood
Chaplain – Bishop Miege High School, Roeland Park
Chaplain – Archdiocesan Catholic Committee on Scouting
The name Shawn is the Irish version of the name John. There are obviously many famous saints named John that could serve as my patron and I do admit to claiming all of them in some way. However, I take St. John the Baptist as my primary patron saint and thus my domain name devoted to "Shawn the Baptist."
I very much admire the prophetic spirit and courageous witness of St. John. I pray that he will be a powerful intercessor in my priesthood. John described himself as a "voice of one crying out in the wilderness." Our society today can seem very much like a wilderness and is in need of more voices like John to call the world to repentance and to boldly point out the Lamb of God. I pray that I may be such a voice, pointing the way to Jesus, that He may increase and I may decrease.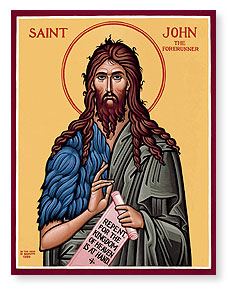 St. John the Baptist, pray for us.
P.S. In case you were questioning, yes, I am Catholic…but I'm also a baptist. In fact, baptizing little babies is one of my favorite things to do.