October 16th, 2016, by Fr. Shawn P. Tunink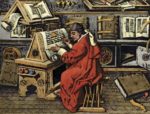 In today's second reading, St. Paul reminds St. Timothy about the importance of Sacred Scripture. As Catholics, we can fall into the tendency of focusing on Mass and the sacraments and thinking that these are the primary tools for growth in holiness. What a terrible thing it would be for us to neglect the Sacred Scripture in favor of things that seem more routine. While the Mass is obviously filled with readings from the Bible, how much time do you really spend studying those readings and praying with them?
Today's homily is a short introduction to the Bible. One of the most important things we need to keep in mind is the context from which the Bible came. The Bible is not the complete instruction book for life. So first we consider where the Bible came from. The same authority that gave us the Bible remains the authority we need to interpret the Bible today. That authority is the Catholic Church. After we understand this, the homily moves on to talk about the important concepts of "inspiration" and "inerrancy," and then finishes with some practical tips. Let's heed St. Paul's words to St. Timothy and give the reading and study of Sacred Scripture the important place in our lives it deserves.
Podcast: Play in new window - Download (Duration: 17:41 — 16.3MB)