September 11th, 2016, by Fr. Shawn P. Tunink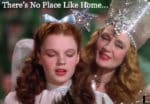 One of the great story lines of all time can be summed up by the phrase "The Journey Home." The protagonist has somehow wound up far from home and struggles to make it back. We can can think of many great movies along this theme, but one of the classics in the genre is the famous story of Dorothy and the Wizard of Oz. A tornado has taken poor Dorothy far from Kansas and now she has to brave the Wicked Witch of the West and flying monkeys to make it back home.
Although Dorothy may be one of the more famous secular versions of "The Journey Home," the most famous biblical version is found in today's gospel story of "The Prodigal Son." Far from home, he makes the difficult decision to get up and return to his father. There he finds a surprise welcome that he never expected.
The most interesting thing to me about the "Journey Home" genre is that it rarely matters how the main character got so far from home. Maybe their spaceship blew up (think Apollo 13) or there was a tornado, like in the Wizard of Oz. Even in the case of the Prodigal Son who wound up far away because of his own foolishness, that's not really the most important part. In some sense, the "Journey Home" story doesn't really start or get interesting until the protagonist decides to head for home. That's when things get exciting.
So where are you at right now? Are you far from home, literally or figuratively? Maybe you're isolated from your family, or from God. Whatever the case, it doesn't matter how you got there. The real adventure is about to begin. All you have to do is decide that you are ready to head for home. It won't be as easy as simply clicking your heals together, but it will be worth it. After all, as any good Kansan knows, "There's no place like home."
Podcast: Play in new window - Download (Duration: 15:42 — 14.5MB)