July 24th, 2016, by Fr. Shawn P. Tunink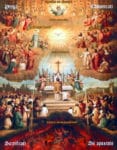 "Teach us to pray!" This is the request Jesus gets in today's Gospel. When we think of learning to pray, we might call to mind learning our basic prayers when we were young: the Our Father, the Hail Mary, or and the Glory Be. Yet, it seems like Jesus is being asked something deeper than this. The apostles often saw Jesus in prayer, wrapped in intimate conversation with his Heavenly Father. This is what they wanted, to have that kind of relationship. More than just memorizing the words of set prayers, the essence of our prayer is a relationship with God.
One of the most important prayers, the one in which we are most in union with God, is the prayer of the Mass. I'm not referring to one specific prayer, but rather understanding the entire Mass as prayer. The Second Vatican Council called for the faithful to have "full, conscious, and active participation" in the Mass. Today's homily shows how this participation is primarily internal rather than external and gives some practical ideas of how to be more active in our prayer at Mass.
Podcast: Play in new window - Download (Duration: 16:53 — 15.6MB)