November 6th, 2016, by Fr. Shawn P. Tunink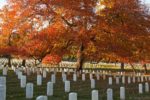 The readings this weekend remind us of the reality of heaven. There really is life after death. The brothers in our first reading are willing to lay down their lives because they trust so much in the life to come. This week, our country honors our veterans. They too have been willing to make great sacrifices, even that of their own lives, in defense of others.
The number one thing that disrupts our relationship with God and will prevent us from being in heaven with him is selfishness. Our veterans inspire us because of their heroic detachment to the things us this world. We pray especially for our veterans who died in battle. May they know the reality of the resurrection. May all of us be inspired by their example to be unselfish and to be a hero.
Podcast: Play in new window - Download (Duration: 15:00 — 13.9MB)