August 7th, 2016, by Fr. Shawn P. Tunink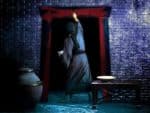 In the Old Testament story of the Exodus from Egypt referred to in our First Reading today, God's chosen people are safe from the Angel of Death. They were warned ahead of time of this approaching 10th plague. Having followed God's instruction, they watched the Angel of Death "pass over" their houses while the first-born of the Egyptians all died.
In a similar manner, Jesus gives us a warning in today's Gospel so that we too might be prepared and safe. In this case, it's not the Angel of Death who is coming but, rather, Jesus himself who will return in glory. On the one hand, Jesus tells us that we shouldn't have to be afraid of this day, "Fear not, little flock." Yet, he also warns us that we need to be prepared. If we put off turning away from our sins and taking seriously our relationship with God, then we will have much to fear when Jesus returns "at an hour you do not expect" and finds us unprepared.
Podcast: Play in new window - Download (Duration: 11:53 — 11.0MB)