September 25th, 2016, by Fr. Shawn P. Tunink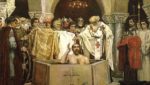 In today's second reading, St. Paul writes to St. Timothy, who he has appointed Bishop of Ephesus, to give him some advice on how to be a good bishop. St. Paul urges St. Timothy,
"Lay hold of eternal life, to which you were called when you made the noble confession in the presence of many witnesses."
This "noble confession" to which Paul refers is most likely a reference to the day of Timothy's baptism. Today's homily takes a look at some of the details of early Christian baptism. One thing that has remained a part of the ritual from the beginning is that there must be a "confession" of faith before the person is baptized. We refer to this today as making our "baptismal promises." How often do you think about your own baptism and your baptismal promises? St. Paul can think of no better advice to give St. Timothy, and it's perfect advice for us today as well. I pray that today's homily might help you to look more deeply at your baptism and then compete well for the faith, holding fast to your own noble confession.
Podcast: Play in new window - Download (Duration: 16:28 — 15.2MB)